Part Five - Other European "Free Men"
Chapter 8 - The British Free Corps
In Appendix 1 of his book "Renegades - Hitler's Englishmen" M31, Adrian Weale presents the text of MI5's Report on the British Free Corps, dated March 27, 1945. (Note the small Union Jack sewn on the uniform left forearms in the picture below.)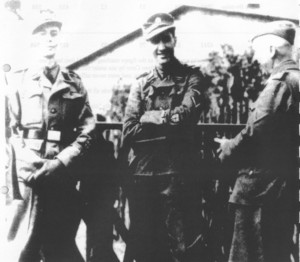 The BFC was fathered by the pro-Nazi idealist, John Amery, who had established an anti-bolshevik organisation he dubbed "The British Legion of St. George" while the willing mother was the German Foreign Office who quickly recognised its propoganda potential.
Throughout Europe, there were many politically active anti communists who sincerely believed in the doctrines of Nazism with names like Mosely, Laval, Quisling and Mussert quickly springing to mind. The civil war in Spain had highlighted the coming struggle for power between "Republicans" and "Fascists" and an armed struggle for the hegemony of Europe had become inevitable. And in this struggle, propoganda was going to be a powerful weapon.
The BFC was to have many counterparts such as General Vaslov's "Russian Liberation Army", the "Free India Legion" and the Scandinavian squad that fought on furiously in Berlin as Hitler ended his own life in his bunker there.
These fanatic adh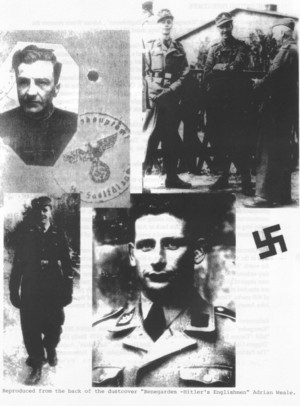 erents to a cause were inevitably joined by a petty criminal element who joined them purely for personal convenience or to share the spoils of war. The AIF too had many volunteers to its ranks who sought obscurity in a uniform or a chance to adapt an army routine to their own use.
The Germans had designed a special uniform of field grey with an embroidered Union Jack in the shape of a shield on the left forearm, a black collar patch bearing three lions, and the words "British Free Corps" in germanic lettering on the arm.
Rather optimistically, they ordered 800 of them but the maximum strength of the BFC never exceeded the 30 men required to form a fighting detachment. They were SS troops, trained by the SS and not attached to the regular German Army, receiving a regular monthly pay of a minimum of 400 marks. The three Australian soldiers were members of the same AIF Ninth Division unit.
At least four Australians joined the BFC, either cynically to improve their everyday lot or to escape punishment for criminal acts incurred within enemy territory. At a most charitable best, some might have done so as they thought it would be easier for them to carry out their long-term escape plans which was the defence advanced by the New Zealander who joined them in the BFC. They were all detected by MI5 interrogations at the cessation of hostilities as they were processed through the AIF reception camp at Eastbourne in Sussex. Only one of these four was court-martialled, not for treason, but for aiding the enemy. He was repatriated under guard, in the brig of a vessel returning him back to Australia and served another year in a Perth prison. He nevertheless was granted a pension in recognition of his war service. The New Zealander was also court-martialled on his return from Germany and served out his sentence.
John Amery, like William Joyce ("Lord Haw Haw") was convicted of treason and hanged.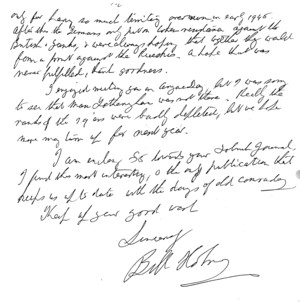 References:
M2 "A Matter of Trust MI5 1945-72", Nigel West, 1982, London. ISBN 0297782533.
"Diggers Under the Reich", Red Harrison, Weekend Australian, August 13, 1994.
"Jackals of the Reich", Ronald Seth, New English Library, London, 1972.
M18 "MI5-BSS Operations", Nigel West, Military Heritage Press, USA, 1981. ISBN 0880292353.
M20 "MI9 - Escape and Evasion 1939-1945", Foot and Langley, Bodley Head, London, 1979.
M31 "Renegades - Hitler's Englishmen", Adrian Weale, London, 1994. ISBN 0297814885.
"The Patriotic Traitors", David Littlejohn, William Heinemann, London, 1972.
For a full list of British soldiers, contained in The MI5's Report on the British Free Corps (BFC) dated 27 March, 1945, click here.
The ANZAC Members of The British Free Corps of the German Waffen SS.
WX1755 Robert Chipchase 2/32nd Bn, 9 Division AIF
"I have regrets now of course, about what happened, but I don't regret what I did at the time - I thought I was doing the right thing. I never really thought that I was going to get out of it alive. My first marriage had broken up while I was away and I guess that helped me make my decision. I thought I had nothing to come back to.
"It didn't take long, asking questions and not getting concrete answers and we were not fulfilling anything that had been said about working behind the lines. It wasn't good enough for me because I call a spade a spade and I don't like to be treated as a fool. That was where they made their mistake. So I decided to quit and take the responsibilities."
After two months in Germany, he changed his mind about the Corps and refused to sign the enlistment papers. He was sent to a punishment camp where he sat out the rest of the war.
His AIF record shows he was born in Guisborough, England on 19/07/16 and discharged in Australia on 2002/46.
WX1839 Albert James Stokes 2/32nd Bn, 9 Division AIF
Bert Stokes was also an inmate of the Stalag XVIII complex in Austria where he was recruited into the BFC by Courlander. In March 1944 he was transferred with other recruits to Hildesheim where they all adopted assumed names.
After his arrival at the No 1 Reception Camp at Eastbourne and was interrogated he confessed immediately: "I want to get it off my chest. I did not volunteer but I was tricked into it by Courlander. I was a fool."
At Eastbourne on August 17, 1945, he was charged with while being a POW he voluntarily aided the enemy by joining and working for the BFC and the armed forces of the enemy.
He pleaded not guilty but to no avail. He returned to Australia under guard on the troopship "Aquitania" and served out the remainder of his one year's imprisonment in the Fremantle prison .
He was discharged on November 22, 1945. In March 1946 his petition for appeal was dismissed.
He subsequently migrated to Queensland and worked in Brisbane, applying there for a service pension which was granted. This pension was merely in recognition of his war service.
He died of cancer in an army hospice at Kangaroo Point, Brisbane.
VX13097 Lionel Herbert Battinson Wood 2/32nd Bn, 9 Division AIF
Lionel Wood had found it difficult to settle down after repatriation from Eastbourne and his discharge on January 22, 1946.
"He had tried his hand at driving trucks, plastering and working as a storeman and packer after the war, but his health gradually failed and in 1964 he was classified by the Victorian Department of Veteran Affairs as a TPI pensioner."
His health continued to deteriorate and he suffered badly from depression. He died in November, 1974, and was officially buried by the Office of Australian War Graves in Springvale Crematorium in Melbourne.
(Recorder's Note - Material has been drawn from "Renegades -Hitler's Englishmen" M31 by Adrian Weale and "Diggers Under the Reich" by Red Harrison - an article appearing in the Weekend Australian August 13-14, 1994, direct statements having been placed in inverted commas. This article also outlines the story of a merchant seaman, Ronald David Barker captured in 1941 after the German pocket battleship "Admiral Van Scheer" sank the MV "British Advocate" in the Indian Ocean. Barker also joined the BFC.)
2771 Cpl Roy Nicholas Courlander 18 Bn Intelligence Section 2 NZEF
Courlander was born in Riga, of White Russian parents in 1915. When very young, he was taken to the Malakula Islands where he grew up. He could speak French fluently and German fairly well.
He enlisted into the 2NZEF early in the war and was captured at Kalamata, in Greece in April, 1941, becoming German prisoner 7222 in Stalag XVIIID, Maribor (Marburg) where he acted as interpreter.
In May, 1944, leaflets were distributed by the German Camp authorities at Maribor which read:
"As a result of repeated application from British subjects from all parts of the world wishing to take part in the common European struggle against Bolshevism, authorisation has recently been given for the creation of a British Volunteer Unit. The British Free Corps publishes herewith the following short statement of its aims and principles of the unit:
1. The British Free Corps is a thoroughly British volunteer unit, conceived and created by British subjects from all parts of the British Empire, who have taken up arms and pledged their lives in the common European struggle against Soviet Russia.
2. The BFC condemns the war with Germany and the sacrifice of British blood in the interests of Jewry and international finance, and regards this conflict as a fundamental betrayal of the British people and the British Imperial interests.
3. The BFC desires the establishment of peace in Europe, the development of close, friendly relations between England and Germany and the encouragement of mutual understanding and collaboration between the two great Germanic peoples.
4. The BFC will neither make war against Britain or the British Crown, nor support any action or policy detrimental to the British people".
In April, 1944, S.M. Stevenson, Camp Leader of the main camp at Stag XVIIIA, Wolfsberg, warned all sub-leaders that Courlander was to be considered as a traitor. He had been seen wearing the uniform of a German Corporal, with a Union Jack on his left upper arm and on his coat a band, with the following words printed upon it - "BRITISH FREE CORPS". (See CSDIC CMF/SKP/ 3805-3811- 26/09/44)
SX5286 L/Cpl Ralph Churches, I Anzac Corps HQ AIF, was in charge of a small work camp attached to Stalag XVIIIA, when in December, 1943 he heard of a "Free British Movement" started to fight Bolshevism. Later he attended as conference of camp leaders at Graz where he learned that Courlander had been seen wearing the BFC uniform.
Ralph Churches writes:
"When I arrived at Arbeitskommando 3GW in late February, 1942, Courlander was the camp interpreter: a good-looking well built bloke of around 6 feet. He was, to say the least, an interesting fellow. He wore top boots, the only items of clothing he shed prior to climbing into bed. Washed his face and hands and shaved maybe three times a week, but was never known to do an overall job. He was reasonably popular with most of his circa 100 fellow prisoners. He told a helluva lot of stories about himself, probably little of it true, some of it vaguely founded in fact. Prior to enlisting he lived on Malakula Island - a fact. He claimed family connection with the gentry of Courland, a Baltic region, now in Lithuania? He verbally excoriated his mother, allegedly the famous male impersonating entertainer, Ella Shields. His German, like mine, picked up since capture the previous May, was better than mine purely because he spoke it more confidently. From memory he left us in May to go back to Stalag XVIIID (Maribor) for dental treatment and never returned. I got his job! I think it was late 1943 that I first heard rumours that he was parading around in SS uniform with cuff ribbons reading "Britisch Frei Korps". This was soon confirmed. Later I was in Graz with my Kommandant, when I saw the back of a retreating figure, which another POW said was Courlander.
"The sod had the hide to look me up in Sydney about 1956 and give me the story of his "innocence". He was obviously a crook operating some sort of a scam. I unloaded him politely but smartly."
However several impartial researchers hold reservations both on the proceedings of Courlander's Court Martial, and the manifest severe sentence handed down to him in comparison to similar trials.
Bailie-Stewart, the infamous "Officer in the Tower" was tried on virtually the same charge as Courlander. He was convicted and sentenced to 5 years imprisonment, but was released after 3 years.
Five other New Zealand soldiers, sentenced to penal servitude for life, including Pte. John Danyer of the 2NZEF, convicted of murdering a New Zealand Doctor in Egypt, were all soon released, in Danyer's case, after serving only 2 years in prison.
Even if Courlander was guilty of the charges laid against him, on a comparative basis, he was given an excessive sentence. But more importantly, the proceedings at his trial could certainly be sufficient for an appeal against this long sentence.
Roy Courlander was a non-commissioned officer in the Intelligence Section of the 18th Bn. 2NZEF.
He enlisted in October, 1939, and took part in the 1941 Greek campaign, with great personal credit. He was captured by the Germans in Kalamata in May 1941, having missed out on the official evacuation from that port. He escaped, but was almost immediately re-captured. To such an intelligent soldier, it must of occurred to him that a more subtle and better plan for escaping would have to be prepared.
Of all the Anzac servicemen who joined the BFC, Courlander never used a name other than his own.
He emphasised his White Russian ancestry, false though that was, and realised his best method of returning to Allied Lines was to join the enemy, getting to the front and seizing his first opportunity of crossing over to the Allies.
He may well have decided that should the Allies not win the war, as was likely at that stage of it he could take advantage of his service with the enemy, and if the Allies did win, his escape attempts would be to his advantage.
Coulander's pretended collaboration as a means of escape can be backed up by witnesses including those of John Hall who occupied the next bed to Courlander at 3GW from February to May 1942 and from Belgian witnesses who he met whilst serving with the Germans on the Belgian front.
After the Allied landing that opened up the second front and the tide of war was flowing against the Germans, he elected to join an SS unit to go to the French front. This could easily be interpreted as the first step in his overall game plan to escape to the Allies at an actual fighting point.
Perhaps the final proof of his sincere loyalty may be argued, in the manner of his acceptance to the Court verdict of guilty. Not only did he decline to appeal against his sentence, he forbad his New Zealand defending officer to do so on his behalf and when pressed by the Court he said "The only thing I would like to say is, if the Court thinks I am a traitor to my country, I hope they will impose the heaviest possible punishment".
If he had had a guilty mind, he surely would have destroyed his uniform and paybook, his BFC patches and other incriminatory documents. He never did this.
The proceedings of the Court itself were tilted heavily against Courlander. He was not charged until 10 months after his return to England from Germany allowing material witnesses to disperse while others became more difficult to trace in Belgium.
The Court itself was conducted by a Lieutenant-Colonel who was an English barrister attached to the Office of the British Army Judge-Advocate. Courlander had been assigned a New Zealand officer, very junior in rank and legal experience to the English KC Prosecutor.
It would not be hard to come to the conclusion that the dice were loaded against Courlander from the start.